Retail store gondola shelving
Retail store gondola shelving units for sale on best price, include Supermarket shelves, Gondola Shelving, Retail shelving, retail gondola shelves, Vegetable and fruit shelving, Cosmetic shelving, Wooden shelving, also include shelving accessories, hooks, basket, price tag holder. They are most popular retail shelving systems for every grocery, store, supermarket, pharmacy, hardware store, discount store, convenience store and so on. They are designed to display a wide range of items.
Popular model: Tego shelving, Lozier shelving, Madix shelving
Our supermarket gondola shelving is available in many sizes, so you have the flexibility to choose the depth and height according to your needs. we can help you select from a choice of fantastic shelving colors to add appeal to your store. We also produce many clever shelving accessories to further organize your store.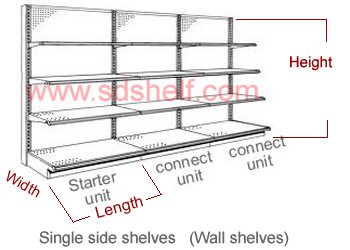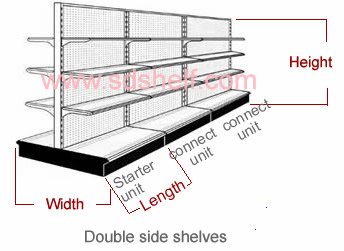 Supermarket Gondola shelves species have double-side island shelves, single-side wall shelves, end cap shelves, Several shelves units can be connected in a row.
If several shelving are connected in a row, the first starter shelving of each row is called the starter unit, and the rest called connect unit.
We supply a variety of shelves, retail shop shelving, supermarket shelving, gondola shelving, steel shelving, Tego metal shelving, wooden shelving.
Size (L * W * H):
Single-side: L665/1000/1200/1250/1330mm * W370/470/500/570/600mm * H1500/1800/2000/2200/2400/2600/2800/3000mm
Double-side: L665/1000/1200/1250/1330mm * W820/1000/1020/1200/1220mm * H1500/1800/2000/2200/2400/2600mm.


Different Styles: