supermarket entrance and exit door
supermarket enter and exit door control.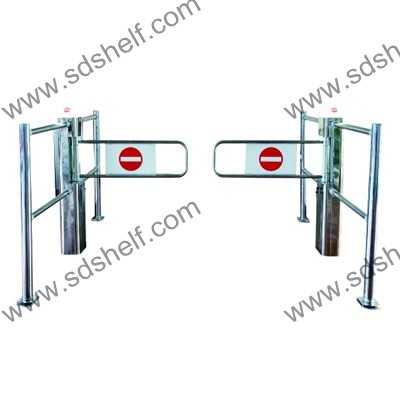 Auto Swing barrier gate
1. For handicapped passengers or for large luggages.
2. Individual installation interface
3. turnstile gate
Handicapped barrier
Access control barrier
Pedestrian turnstile swing barrier gate Specification
Contains Mechanism,Housing,Driver board,power supply
Housing material 304 stainless steel or Cold-rolled steel plate.
Drive mode: Mechanical driving core system Motor drive,Photoelectric sensor
Access modes
1.locked.
2.Remote control by computer.
3.Authorized.
Following Speed ≥15 people/minute in Normal close mode.
Noise: ≤65dB
lane width 550mm-600mm
Working state single or bi-direction,16modes.
Status Indication Allow passing through / Forbidden
Voltage: Input AC220V (adjustable)
Communication Interface: a: 12V Rssia,or >10MS 12V pulsing signal
b: Current driven>10MA;or Passive node signal 10MS
Working environment Indoor,Matching with rain frame for outdoor use.
Working temperature 00C-600C
Humidity: 5%-90%
Maintenance port 2units
Service Life Three million continuous opening and closing of barrier panel.
Dimension Cylinder height:1200mm;Cylinder Diameter:220mm;Lane width:≤900mm
Net Weight: 50KG

Feature & Advantages
1.Cold-rolled steel plate or 304 stainless steel casing optional.
2.Directional LED Optical Signals:Green Arrow or RED Cross signage.
3.With fault self-check function and Alarm function,convenience for maintance .
4.Mechanism is specially processed ,more durable
5.Always open or close modes,When Fire alarm on,The arcylic will retract automatically.
6.Ensures rapid, efficient & safe access control.
7.Individual installation interface,easy to integrated with Magnetic card,Barcode card,ID card,IC card etc.
8.PhotoElectric Beams installed standard for all models.